Arizona is the first state to legalize medical marijuana and cannabis use for recreational purposes. It's poised to become the hub of U.S. cannabis industry with a projected $1 billion in annual sales by 2020 or 2021, according to Arcview Market Research and BDS Analytics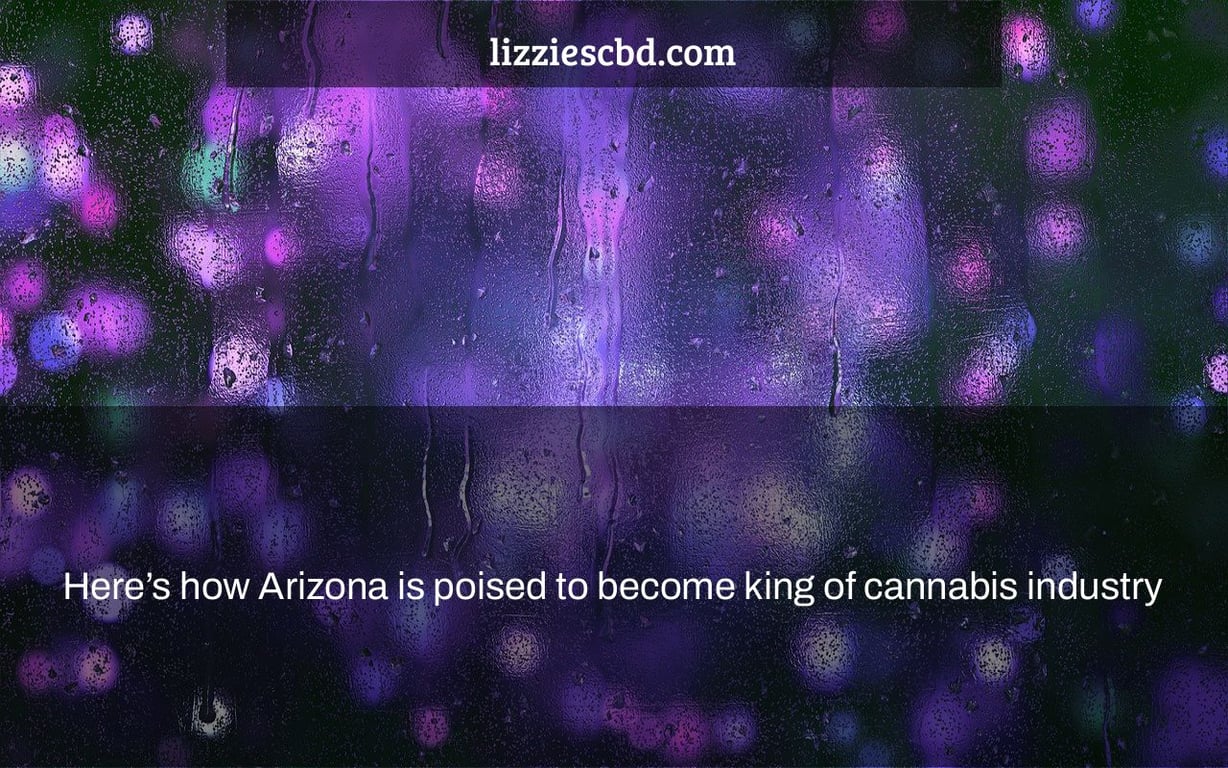 The roots of a new economy were sown in the Grand Canyon State more than a decade ago. Proposition 203, which established Arizona's medicinal marijuana program, was passed by voters. Patients with qualifying medical illnesses were able to obtain cannabis products from regulated dispensaries under the new regulation. The Arizona Department of Health Services (ADHS) was granted regulatory authority over the emerging medicinal cannabis industry to meet demand. In the years following, Arizona has developed a thriving cannabis business within the confines of Prop 203.
Proposition 207, which completely legalized recreational cannabis usage for people aged 21 and above, was passed by the state's voters in 2020. Medical dispensaries were eligible to apply for dual license, allowing them to sell cannabis to recreational users that matched Prop 207's conditions. The permitted amounts of tetrahydrocannabinol (THC), the psychoactive chemical that causes intoxication when smoked, vaporized, or consumed, are the difference between the two sorts of users. Patients enrolled in the medicinal program are permitted to possess bigger amounts of cannabis and buy delicacies with higher THC concentrations.
Purchases of recreational cannabis are also subject to a greater tax than purchases of medicinal cannabis. Transaction privilege taxes, which are basic retail sales taxes charged by the state, county, and municipalities, apply to both, but recreational purchases are additionally subject to a 16 percent excise tax. As of August 2021, the state of Arizona has earned $115,701,426 in taxes on medicinal and recreational cannabis sales, according to the Arizona Department of Revenue.
The Arizona Dispensary Association's executive director, Sam Richard, puts this revenue collecting into context. "During the Prop 207 campaign, we predicted that the whole cannabis program would generate $300 million in tax revenue for the state within a few years. As of August, more than $115 million has been collected, putting him on track to surpass $250 million this year, he says.
"We didn't start recreational adult use sales until January 22, so the ultimate income amount will be more than a double of the first half of the year," Richard adds. "Furthermore, not every dispensary that has been granted one of the state's 143 licenses is open and ready to do business." Two more dispensaries have opened in the past 30 days or so, and at least three more are expected to operate in the next 45 to 90 days."
When you consider the effect the epidemic has had on Arizona's tourist business, the stats appear even more astounding, according to Richard. He believes that sales from winter tourists and those who own second homes in the state will be greater during the winter months.
With the approval of Proposition 207, a thriving business is blossoming from the foundations laid by the passage of Proposition 203. But what impact will this growing industry have on Arizona's economy, and what obstacles will it face in the future?
In the cannabis sector, cultivating success is a must.
Lilach Power is the founder and CEO of The Giving Tree and the only woman who owns a controlling stake in an Arizona dispensary. The Giving Tree was a medicinal dispensary and cannabis grower prior to recreational legalization. Power filed for and was granted a dual license to serve both medical and recreational clients after the adoption of Proposition 207.
The Giving Tree moved its retail location just as recreational sales were going online, which resulted in huge queues in the shop, but hiring more personnel helped satisfy the demand.
"On the retail side, we've grown from 12 to 26 individuals." "In all, the crew has grown to 65 people," Power adds. "Sales have quadrupled between the transfer and the commencement of adult usage — which occurred on the same day, so we don't know the specific explanation."
The variety of persons that pass through the doors has contributed to the increase in sales. "Nearly 40% of our consumers are women, which is excellent. "Around 35 percent are above the age of 40, and approximately 60 percent are over the age of 30," says Power. "Everyone has a mental picture of a 20-something at a dispensary, but they're a tiny percentage of what we see."
The Giving Tree, like many dispensaries, produces and sells its own line of cannabis products. It owns Kindred, a brand of THC pills accessible in 65 dispensaries in Arizona with doses for daytime and evening usage. The business just released Revelry, a brand of pills created expressly to help women deal with the symptoms of menopause.
The cannabis plants for the dispensary are cultivated in The Giving Tree's previous facility, which was divided between the grow and retail operations. The area is now being expanded to meet rising demand for the company's brands. Cannabis is cultivated under strict guidelines at the growing facility to guarantee that the customer obtains a consistent, high-quality product.
"Under the adult-use law, product testing is now required. From the blossom to the quantity oil we extract, we examine everything. "We also test each of our pills to ensure that if it says 5 milligrams of THC, the buyer receives 5 milligrams," Power adds. "I always tell my mom that if she goes in here, she can purchase anything and know she'll receive exactly what's on the label."
professionals that work with marijuana
The bud of a female cannabis plant that is coated in a sticky oil that contains THC and other naturally occurring compounds is the portion of the plant that is smoked, commonly known as flower. The oil from the flower is extracted to generate a concentrate that may be utilized in a range of products, such as edibles and capsules, or vaporized in its natural state.
As a result, a dispensary's personnel has to expand beyond "budtenders," who are front-of-house professionals who educate patients and clients on various products. Grow technicians assist with plant development, trimmers cut the flower off the plant and prepare it for sale, and inventory personnel weigh and package items at The Giving Tree.
"We have a chemist that works on formulation and research and development on the extraction side." Compliance personnel, a marketing team, a sales director, human resources, finance, and accounting personnel are all on staff, according to Power. "People believe we just cultivate and sell marijuana, but it takes a complete symphony of specialists to pull this out." We're a real firm with perks like 401(k) matching, charity fundraisers, and happy hours for employees."
The cannabis market has become more professionalized over the past decade, according to Ryan Hermansky, one of the three founders of Noble Herb in Flagstaff. Everest Concentrates and Pure Edibles are two of the dispensary's brands, both of which require specialized skill sets to produce.
"Everyone who works in our lab has a chemical or science-based degree," Hermansky adds, "which provides them the basis to learn, make modifications, and continue to educate themselves as this business expands and becomes more professional." "On the edible side, we have a number of Le Cordon Bleu culinary school grads on staff, as well as folks who have ran catering companies and grocery store bakeries." We're seeing a lot of highly educated and experienced professionals leave their fields to join ours."
More schools and universities are beginning to offer cannabis-related courses, notably in the agricultural industry, according to Hermansky. He argues, "The days of learning everything via YouTube are over."
Getting lost in the weeds
Despite the cannabis industry's amazing development and professionalization, there are still difficulties impeding its progress. Finding land with the suitable zoning to run their activities may be difficult for dispensary operators.
As the cannabis business has grown, some of the negative perceptions about marijuana have begun to dissipate. "Six or seven years ago, many landlords refused to allow cannabis firms to operate on their premises. Today, they see the benefit and recognize that they may charge much higher prices for cannabis usage, but not to the point of being immoral," says Laura Bianchi, partner at Bianchi & Brandt. "From the standpoint of an investor, we're seeing Wall Street types that are interested in and like the real estate part of the business as their first foray into the market." I've seen a tremendous change in public perception of cannabis facilities, with people realizing that it's something they can benefit from regardless of whether or not they enjoy cannabis."
Banking is another source of worry. Due to the unwillingness of banking institutions to deal with them, many dispensaries must operate as cash companies. "Because marijuana remains federally illegal, traditional financing for any marijuana-related business is limited to only a few financial institutions," says Wade M. Burgeson, shareholder at Engelman Berger. Despite the fact that the Financial Crimes Enforcement Network has released 'advice,' its applicability is questionable, and financial institutions continue to face a slew of federal financial crimes legislation and possible regulatory difficulties."
Unlike other states that have legalized cannabis, Arizona banks are willing to engage with local shops, according to Power. "We have a bank, but it's a pretty restricted connection." "We don't have any loans and can't accept credit cards," she explains.
Noble Herb has a similar predicament. "Because we operate with a genuine bank, we have standard payroll and financial transactions." "The main distinction between visiting our dispensary and visiting any other retail business is that we don't accept debit or credit cards," Hermansky explains.
One business, whose name Power refuses to reveal, has developed a new solution that enables The Giving Tree to take debit cards as a means of payment, which her bank's compliance department has authorized. "It's one of those little celebrations in our sector that helps us legitimate ourselves," she explains.
Burgerson points out that federal MPs are seeking to adopt legislation that would provide the multibillion-dollar cannabis business with complete and unfettered access to financial institutions.
"The Secure and Fair Enforcement Banking (SAFE) Act and the Marijuana Opportunity Reinvestment and Expungement (MORE) Act are two contemporary legislative endeavors. Both the SAFE Act and the MORE Act have passed the House of Representatives and are now pending in the Senate. These bills would, among other things, "increase financial institution safe harbors," "possibly de- or re-schedule cannabis under the Controlled Substances Act," and "make small business administration loans accessible for cannabis-related firms or service providers," according to Burgerson.
Doug Daly, one of Noble Herb's founders, believes that all signals point to the industry's future growth. "The opposition's forecasts concerning legalization's harmful consequences haven't proved to be accurate. "We're getting close to over 100 million Americans who have recreational or medicinal marijuana access, and they're reaping the advantages," he adds. "And states are reaping the financial rewards, which include increased tax income and an increase in employment possibilities."
Watch This Video-