Marijuana decriminalization has been a pet cause of Nancy Mace, R-Salem. In an interview with the Statesman Journal, she said that her personal experience with cannabis use helped shape her views on legalization and provided relief from chronic pain. Though marijuana was previously legal in states like California and Washington when she smoked it 30 years ago, those laws were repealed by voters. When Oregon legalized weed at the ballot box last year, she was relieved to see lawmakers finally catch up to public opinion in this state too.
"Decriminalized vs legal" is a question that many people have been asking recently. The answer to this question is that marijuana has been decriminalized in the state of Illinois, which means it is not considered a crime. Read more in detail here: decriminalized vs legal.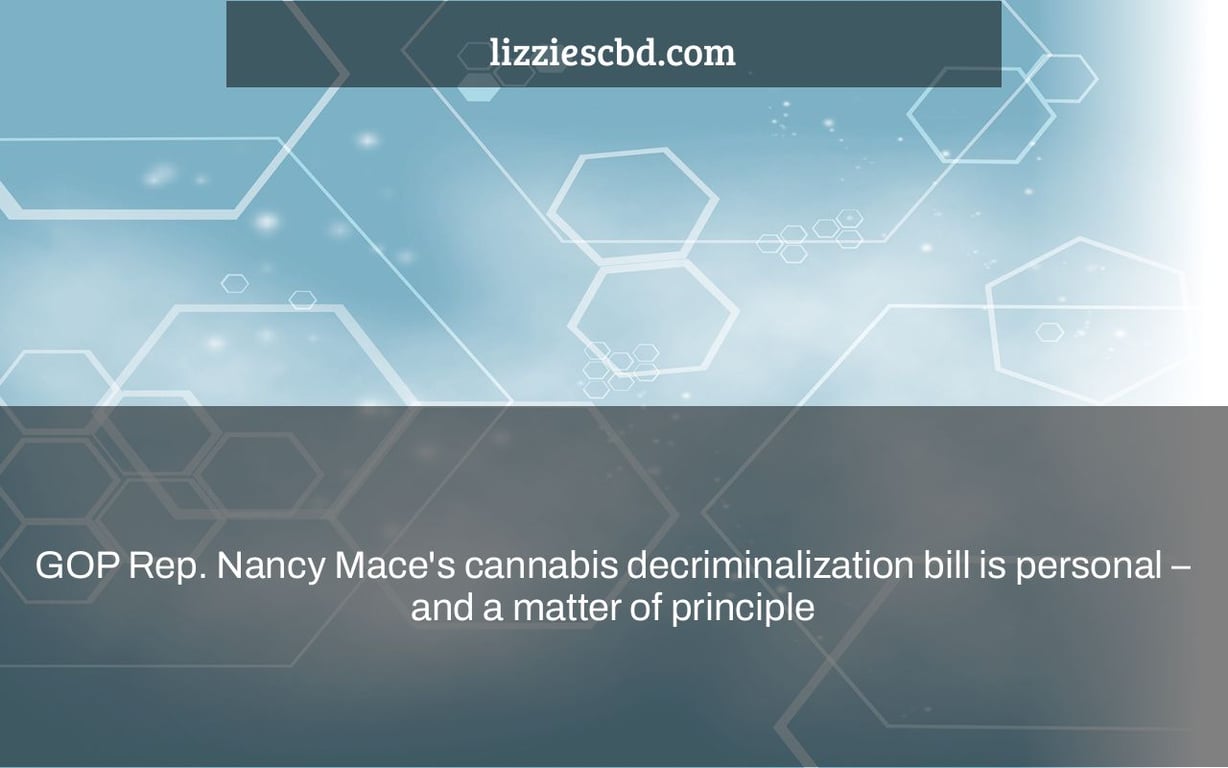 Rep. Nancy Mace, R-South Carolina, has filed legislation to legalize marijuana at the federal level while giving states power over cannabis laws and regulations.
Mace spoke to Fox News on the idea, dubbed the States Reform Act, and described her earlier efforts on cannabis reform in South Carolina's state legislature. Mace cited her support for the state's Compassionate Care Act, which would enable those suffering from diseases like cancer or glaucoma to consume non-smokable marijuana.
Mace argued that Republicans are spearheading efforts to approve cannabis reform throughout the nation, and that the subject is "personal" for her since she resorted to cannabis after a tragic experience in her life when she was young.
"I confessed that I was raped," Mace told Fox News, revealing the "physical, mental, and emotional" anguish she experienced as a result of the incident, which led to her being given antidepressants. That prescription, according to Mace, made her "emotion and feelings of despair" worse, so she resorted to cannabis for solace.
"When I was going through this," Mace said, "I used cannabis." "Doing so helped me get through some really difficult moments in my life and reduced some of my anxieties. It was a really tough situation for me to be in. When it occurred to me, my whole life came apart."
When Mace hears similar experiences from others, especially soldiers suffering from PTSD, she says she can "feel it in my heart."
"I understand that sorrow because I've experienced it before," she added, referring to the "silent victims" who "don't have a way out."
Mace claimed she lost a family member to an overdose, referring to the current opioid issue in the United States.
"These things happen all the time, and they affect every family and every sort of community, regardless of skin color or income," Mace said. "It's long past time for the federal government to get out of the way, establish a tax, tax it, and regulate it, and let states do what they've been doing for over two decades."
"Feedback from both sides, currently, has been encouraging," Mace said, adding that her bill is "the way" to increased state authority.
When asked about Republican resistance to the bill, Mace said that she needs "Republicans at the table" and reiterated that the bill does not legalize marijuana in all 50 states. The law is about "state sovereignty," she claimed.
The "simple" plan, according to the first-term congresswoman, has "things that both sides of the aisle" would embrace, such as criminal justice reform, community policing initiatives, and funds to address the opioid epidemic.
"There are simply so many things [added] from the right that our leaders have been championing for years," Mace remarked.
Despite the fact that the bill now has five Republican co-sponsors, Mace said she is seeking to get more support and is reaching out across the aisle.
Rep. Gary Palmer's office was contacted by Fox News for comment on Mace's proposal and if he, as the House Republican leader, would support it.
However, it is unclear if the House Republican leadership will support it. A request for response from the majority of House GOP leaders went unanswered.
Chief of Staff William Smith, who also responded to two other Palmer workers, responded to a request for comment issued to Republican Policy Committee Chairman Gary Palmer of Alabama.
He wrote, "We don't have to respond to this, but we don't support it."
The National Conference of State Legislatures reports that 47 states have legalized cannabis for recreational or medicinal use. Only three states — Idaho, Nebraska, and Kansas — have not legalized marijuana in some way.
Watch This Video-