The cannabis industry has been struggling with a lack of transparency and legitimacy for decades. A new blockchain-powered project seeks to solve these issues by creating the world's first transparent, verifiable registry of cannabis plants.
"Is crypto the future" is a question that has been asked for years. It is finally becoming a reality, as cannabis and crypto are now married in many states. Read more in detail here: is crypto the future.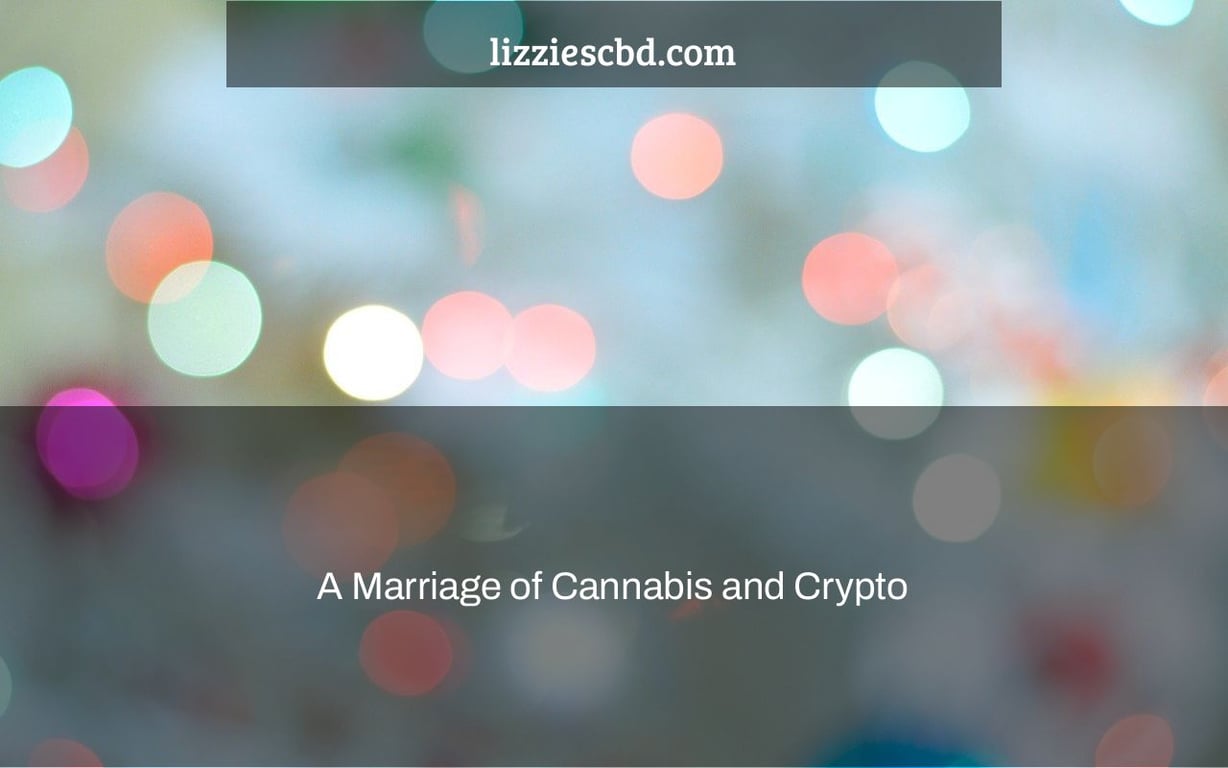 As the US government works to regulate cannabis and cryptocurrencies, now may be the ideal time to formally unite these two game-changing sectors.
Collectors and taxpayers have been playing a never-ending game of cat-and-mouse since the first tax legislation was enacted. And the taxman is always chasing his cut, no matter how you calculate the cheese.
Cannabis and cryptocurrencies have one thing in common: they both operate in the gray area, at least in the eyes of the federal government. Despite their ambiguous legal position, both sectors have managed to establish a sizable market. The cryptocurrency market surpassed $2 trillion in April 2021, according to statistics, while the MJBizFactbook estimates that the economic effect of cannabis sales would reach $160 billion by 2025.
There are billions of dollars in tax money that are left unregulated since there are no federal rules governing the industry. However, with both sectors gaining traction and shedding their stigmas, there may never be a better moment to bring them together.
A Tale of Two Businesses
The US Treasury Department has released a study on cryptocurrency reporting laws in an attempt to deter corporations from hiding transactions. The study specifically said that bitcoin "poses a substantial risk by promoting illicit activities in general, including tax avoidance."
Similarly, various efforts to legalize, regulate, and tax cannabis have been made in recent years, but federal politicians have shown little interest. Legal cannabis producers have been caught in a dilemma as a result of the legal ambiguity, which has limited most typical banking activities and burdened the business with an excess of cash.
On the one hand, we have cannabis, which is a highly regulated industry that must adhere to a stringent operational compliance regime as well as support financial services providers' stringent compliance oversight – all of which necessitates seed-to-sale traceability and financial transaction information down to the smallest detail. On the other side, we have a plethora of digital crypto assets that are not only unregulated but also lack suitable prospects for effective utilization.
To put it another way, what better sector to promote the Bitcoin craze than marijuana? Cryptocurrency may take use of the current infrastructure by piggybacking on the scrutiny, monitoring, and reporting requirements already in place for cannabis. At the same time, cannabis obtains a solution to its cash issue by gaining access to a big pool of digital assets and a digital banking framework.
Cash transactions exceeding $10,000 are already subject to IRS reporting obligations under current banking rules. Similarly, the IRS intends to impose similar compliance filing requirements for crypto activity over $10,000.
Furthermore, the IRS seeks to prevent companies from using alternative banking by forcing payment service providers to submit 1099 reports, but owing to banking constraints, this has proven inevitable for cannabis firms. This issue might be the ideal use for cryptocurrencies.
In addition to secure banking,
Whether or not bitcoin is involved, safe banking for the cannabis business will proceed ahead. Cryptocurrency should not be seen as a substitute for traditional banking; rather, it should be viewed as a tool that allows cannabis growers and merchants to expand their financial options.
Cryptocurrency allows cannabis firms to lock in access to financing, which is difficult to come by via conventional banking institutions. Furthermore, as consumer behavior changes, many people want to be able to utilize their crypto assets to make physical transactions. Accepting bitcoin opens up new client channels and increases revenue potential significantly.
In the case of cryptocurrency, collaborating with the cannabis business provides the opportunity to meet IRS regulations via worldwide reporting. All transaction data and activity that occurs at a firm is locked into place using blockchain or an immutable ledger, ensuring that what has been done in the past cannot be undone and that all activity can be readily audited.
Developing a Trustworthy Environment
No one enjoys excessive regulation, yet no one is safe without the correct regulations and monitoring. At the end of the day, it's all about reputation and avoiding reputational risk, which begins with compliance and openness.
Risk management and avoiding reputational disasters are essential for a company's long-term success. Any firm may provide a fantastic product, but few people want to do business with a company that has a bad reputation for questionable or unethical business activities.
Dropping crypto into the highly regulated cannabis industry isn't only a best-case scenario for mainstream adoption; it also ensures that crypto assets are utilized in a lawful and controlled manner, eliminating illicit activities.
There's no doubting that cryptocurrency exists; it's a $2.4 trillion business. Now is the moment to welcome it into our ecosystem and properly use its capabilities.
Watch This Video-
Related Tags
future of cryptocurrency 2021
is cryptocurrency legal
cbd stocks to watch